Most public drinking water supplies in the developed world are treated with a disinfectant chemical such as chlorine, to eliminate any harmful organisms and to preserve the quality and safety of the water throughout the distribution network. However, reaction between the disinfectant and naturally occurring organic compounds in the water can form disinfection by-products (DBPs) which may, in themselves, pose a risk to human health. The use of chemical disinfectants is therefore a balance between protecting against microbial and the potential health risks of DBPs
The most common DBPs are chemical compounds known as trihalomethanes (THMs). The four main THM compounds are:
chloroform
bromoform
bromodichloromethane
dibromochloromethane
Many governments set drinking water standards mandating even lower levels of THMs. In the USA, for example, the Environmental Protection Agency (EPA) stipulates that drinking water should contain less than 80 parts per billion (80 µg/l) of THMs. Within the EU, the standard is 100 µg/l, although in some countries this figure is lower – in Germany and the Netherlands, for example, it is 50 µg/l. In England and Wales, the Drinking Water Inspectorate (DWI) enforces the EU standard of 100 µg/l for total THM concentration; failure to comply with this standard is a criminal offence and renders the water company liable to prosecution.
Current THM analysis procedures
Most water supply companies currently rely on laboratories for THM analysis. This involves sending samples to the laboratory and waiting for the results – a procedure that can take from days to weeks, depending on the laboratories' workload and location. As well as being expensive, this approach means that the analysis data cannot be used for real-time process control – which can lead to over-use of disinfectant or in the worst case could result in contaminated water being consumed before the laboratory results were available.
Parker's THM analyzer – features and benefits
Parker's new portable THM analyzer overcomes all these issues, providing water supply companies with a compact and easy-to-use means of performing accurate, near real-time THM analysis on-site. The analyzer comprises an integrated purge-and-trap system connected to a compact gas chromatograph column and a very sensitive surface acoustic wave (SAW) detector.
Real-time measurement and analysis
It provides a completely self-contained solution for real-time measurement and analysis of THM concentration levels, down to as low as 1 part per billion (1 µg/l) for each individual species of THMs. The analyzer can measure chloroform, bromoform, bromodichloromethane and dibromochloromethane to within 10% of certified laboratory results.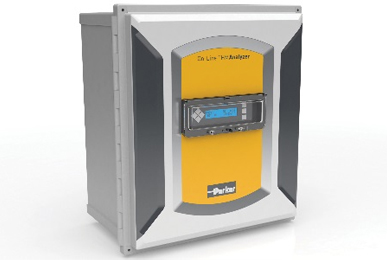 No sample preparation
A key advantage of Parker's THM analyzer is that it does not require sample preparation – a tedious task traditionally associated with gas chromatography. The analyzer's purge-and-trap function automates the measurement process to the extent that the user simply connects the collected water sample to the analyzer's sparging system and pushes the 'start' button. All sample purging, TTHM component separation and data analysis operations are then performed entirely automatically. Individual species and total THM information is displayed on a front panel LCD touchscreen and on the associated laptop computer, as analysis progresses. The entire process takes less than 30 minutes.
After each analysis run, the analyzer's PC-based software displays the processed chromatogram showing the compound peaks and corresponding chromatography data. Analytical results, including measured concentration and detailed chromatography data, as well as optional data such as carrier gas pressure, GC column and pre-concentrator temperature profiles, are automatically archived for more in-depth data analysis and review.
Long term cost benefits
The long term cost benefits of Parker's THM analyzer are significant. By implementing near real-time control over treatment processes on-site, water companies can reduce laboratory analysis costs and achieve much more efficient use of disinfectants. The analyzer's annual running costs are also very low – the only consumables are high purity helium and concentrated standard solutions for verification runs.
To find out more about Parker's THM Analyzer, please feel free to fill out the contact form and a member of KC Controls will be in contact with you.