Despite the best efforts of manufacturing companies, problems with product quality can and do occur that can potentially have both reputation and financial consequences. Batch monitoring and recording can help to ensure that, in the event of a problem, the affected products can be quickly identified, and measures taken to pinpoint and rectify the root cause. Neville Child global product line specialist, Recording and Control, ABB, explains how this can be achieved.
In every industry, there is a level of traceability either required by legislation or to protect the manufacturer should a legal defence be required. Batch control is common across many industries. In the aircraft industry the recording and control of every element in the creation of an aircraft is long established. It is perhaps surprising therefore that this level of detailed analysis was not brought into legislation in the confectionary and wider food industry until relatively recently.
The most common items on the list of product recalls include food items and toys. The European Union's General Food Law Regulation (EC 178/2002) was a big contributor to the rise in recalls when it was first introduced because anyone who identifies a potential safety issue with food now has a responsibility to act immediately. Prior to the introduction of this piece of legislation, companies were able to make judgement calls about whether they needed to withdraw a product on safety grounds, whereas now legislation states that if they have a concern, they are forced to act.
The scale of the Food and Beverage industry in Europe is significant, it is Europe's leading manufacturing sector in terms of its turnover, but it is estimated that half of this turnover is generated by SMEs1. The EU Food industry continues to strive to meet or exceed those legislative guidelines. Allergens in food products triggering fatal consequences caused the food standards agency to launch a consultation on food traceability. Confectionary may include many of the 14 allergens that must be labelled on food packaging, such as gluten, soy, egg, milk, nuts, peanuts, or sesame. The legislation for food safety applies equally to small batch producers as large manufacturers of food and drink, which can be present a challenge in terms of human resource and time required to implement such systems.
Setting standards
Consumer-facing industries are not the only ones affected by the wider trend towards greater reliance on standards. Industries serving other businesses are also increasingly expected to operate within externally recognised standards. In fact, the importance of complying with industrial standards in general has never been greater.
It is not enough for companies simply to obey the rules; they must also be seen to abide by the regulation. Any failure to demonstrate compliance with their particular industry's accepted standards of best practice will leave companies with a lot of explaining to do if something goes wrong – whether they're defending themselves in a criminal court or trying to persuade their insurance companies to cover the costs of defending against civil litigation brought by disgruntled customers.
Effective monitoring and data gathering are the best defence, regardless of whether you are freezing chickens to meet Chilled Food Association guidelines or cooking up aeroplane parts to meet the Nadcap AMS2750E standard for heat treatment.
It is imperative to both large producers and small batch producers to have the same control systems in place. For small batch food producers, they may not be aware of the low-cost entry price of the various Recording and Control devices that can help to satisfy these requirements.
Batch-by-batch traceability
The difficulty that many large and small batch producers find is that a lot of industrial recorders are only set up to monitor and record data at a particular point in the production process, such as a specific process vessel or piece of machinery.
But what many companies really need is a batch monitoring approach that can collect and process data from multiple stages of production as a given batch of product makes its way through the plant or factory. If the batch later comes under suspicion for some reason, this batch-wise monitoring approach should make it far easier for manufacturers to extract the evidence they need to show that they have followed best practice procedures from start to finish.
Furthermore, if something does go wrong, batch-by-batch monitoring makes it easier to trace and recall batches of affected product quickly and efficiently.
The potential cost implication of recall can be enormous. The most well publicised food product recall of 2019 was for hummus. The recall was made by Zorba Delicacies, based in Wales. They supply several supermarket own brands including Aldi, Morrisons, Lidl, Asda and Sainsbury. However, the recall extended to products sold by John Lewis, Iceland, Booker, Spar, Safeway and The Real Deli. It was reported that 56 product lines were affected in total. Zorba Delicacies confirmed that a batch of ingredients supplied by a third party was the cause of its recall of houmous products from various major retailers, amid salmonella fears 2. Britain's consume 12,000 tonnes of houmous a year and the recall caused product shortages and price increases on the product across the UK.
It is possible that more effective batch monitoring at the affected companies could have confined the extensive product recalls to those products that were actually contaminated, rather than forcing companies to recall millions of "suspect" products, some of which may not have been affected.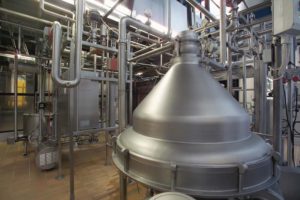 The more recent example in the confectionery industry was in March 2020 when a well known manufacturer of chocolate bars had to recall two batches of chocolates. Due to a mechanical failure at the factory small pieces of metal had been found in the packaging of the finished product. Two batch numbers were given to customers to check, but it was a relatively well contained incident. The recall did reportedly affect the future availability of other product line confectionery that had not yet left the production facility.
Chocolate recall following the mislabelling of allergens on 15 lines of Easter Egg products in 2007. The Eggs had been produced on a line that would normally produce a product that contains nuts. The mislabelling came just one year after the company had to recall a million chocolate bars after salmonella was discovered at a manufacturing plant.
The need for recording and control is not limited to the large-scale manufacturer. Small batch producers must adhere to the same quality standards but often have less resource to deal with the measures, the data, and the recording period they need. However, they may not be aware of the low cost of recording and control devices such as the RVG200 available to support the recording and control of that data.
For example, there is a company that produces rubber seals for instruments. They employ 15 people and make high quality rubber seal each time. They need to be very careful with the quality of each batch as some batches are sold to the aircraft and automotive industries. They are aware of the data points required to ensure product quality and looked for a recording and control solution to help manage the large amounts of data. Producing in small batches does not necessarily mean a small amount of data. When resources are limited, using data recorders can reduce workload and improve efficiency by enabling the same level of batch management of a large-scale producer.
Many recording and control devices serve the dual purpose of confirming the manufacturing quality but also giving an early indicator of any process performance that requires maintenance. For example, in a dairy, the milk must be heated to 71.7 °C for 15 seconds for pasteurisation. If the milk does not reach that temperature it will need to be re-heated. If the flow of milk remains constant and the milk is not coming to temperature it may be a fault with the heat exchangers or other part of the plant which will need to be rectified.
Another example is a small wedding venue that manages a fridge for catering for weddings. The caterers are legally responsible for food safety and for the well-being of guests at the wedding. The venue must supply refrigerators that record temperatures to ensure the quality of food delivered. It would not be possible to ask individual caterers to do the job, but the venue is capable, and it protects the quality of experience for their customer and protecting the both businesses.
Product recalls may be on the rise annually, but with updated systems in place to limit the numbers of products affected by batch recalls, wastage can be minimised, and future recalls limited. Manufacturers both large and small, can in turn return to their comfort zone and be product experts rather than data experts.
For more information on ABB products please contact us using the form below and a member of our team will be in touch.