The ABB team has been working toward even further improving the My Measurement Assistant web application, which has revolutionized the way customers are maintaining their instrumentation and upskilling their staff.
Joining forces with the team who has designed the award-winning non-invasive temperature sensor, My Measurement Assistant includes the all new Performance Indicator feature. Customers can quickly determine if their process is suitable for the non-invasive temperature sensor. Using them eliminates the need for thermowells and can help customers save 75% on CAPEX.
We got together with one of the developers of My Measurement Assistant Kai Jan Neumann, and the Non-Invasive Temperature Sensor Product Manager Guruprasad Sosale, and asked them a few questions about the importance, improvements and future of My Measurement Assistant.
Proper maintenance of your ABB installed base is critical to ensure that operations and profit is optimized. Our first question to our experts:
Why do I need a digital assistant when maintaining a service?
Kai Jan: "As a project manager let me give you an answer from a customer's point of view: At the end of the day, customers need to find ways to be more cost-effective and efficient in an operational sense. That´s where remote services and digital assistants can be a huge help, as they give customers access to a wealth of useful information you wouldn´t necessarily find elsewhere and you can get support wherever you are 24/7."
Why is My Measurement Assistant an application that every maintenance team requires?
Kai Jan: "The great thing is that you don't have to download a new app. My Measurement Assistant is a web-based application. It will add real value and make your life a lot easier. Let me explain further: In times of shrinking service forces, complexity of the installed base, un-serviced devices and the knowledge needed to maintain them, having an assistant at your fingertips can take care of all that and more. How about step-by-step guidance through short visually appealing video tutorials, being able to translate error codes grouped by the NAMUR 107 standard automatically to keep your process running, or checking for spare parts? My Measurement Assistant gives you faster access to information, is easy to navigate and available 24/7 on your mobile and desktop device."
"We have progressed from having information available, to having the right information at our fingertips, and this is what My Measurement Assistant gives us, the right information, at the right time."
– Kai Jan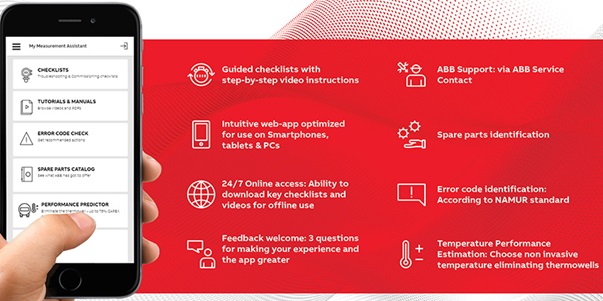 We live in an era where information is easily accessible, and there is a lot of it. This can be daunting in itself.
How do we find the right information at the right time when there is so much information out there?
Kai Jan: "Today big data is available globally and accessing data through the internet is possible from any spot in the world. While data complexity and change of information is happening faster, users need to rely on applications which filter the information down to bitable sizes. Knowing where to find information would also mean to have the direct links, but often information is hidden after 5 clicks and often websites are changing constantly, while links get destroyed. Therefore, it is important to know where to find information, and needs to be presented in a way which enables us to use it immediately."
Digitalization may bring many challenges, but it is important not to overlook the opportunities it presents. Especially when considering process measurements.
How does digitalization offer an opportunity to simplify traditional measurement challenges?
Guru: "The ease and accuracy with which we can model what were once considered complex physics problems means we can fundamentally challenge traditional approaches to sensing. What if, instead of drilling a hole in our piping to sense our process, we turned the piping into our sensor? Our award-winning non-invasive temperature sensor is a clear demonstration of how digitalization can rethink one of the most fundamental and important measurements in the process industry. With a model-based approach, we accurately measure the surface temperature of the pipe and replace the hardware of the thermowell with a physics-based model that predicts the process temperature. This technology is inherently safer, significantly more cost-effective and dramatically simplifies the engineering involved in measuring temperature in a process facility. However, the key enabler is the fact that the accuracy and repeatability match the performance of traditional invasive measurements. In essence, we digitalized the thermowell!"
"With the non-invasive performance estimator, My Measurement Assistant takes the first step towards helping find simpler and safer ways to measure your process temperature without the need for a thermowell."
-Guru
Why did the team decide to build the performance estimation tool as a feature in "My Measurement Assistant"?
Guru: "This tool really embodies the vision of My Measurement Assistant and brings its core idea to life. The next time our customers have a need to measure temperature in their processes, they can easily check whether a non-invasive temperature sensor could be a better solution over traditional temperature measurements. The tool gives an accurate estimation, so that customers can decide for themselves. If the predicted accuracy is acceptable, the non-invasive method could reduce the time to getting a measurement from weeks to days or even hours.
Built on fundamental physics principles and validated in repeated applications, customers simply have to insert standard process design parameters to provide a good indication of the measurement performance they can expect. In addition, the effects of parameters such as the type of medium, wall thickness, material and the thickness of the insulation on the measurement results can easily be examined. In essence, the tool empowers process engineers to make the right decision. In the end, using a non-invasive temperature sensing method might be the better choice for them."
Together Kai Jan and Guruprasad have made convincing arguments as to why every maintenance team could benefit from using the new My Measurement Assistant web application to make maintenance, commissioning, troubleshooting and learning easy.
For more information on ABB products or KC Controls services contact us below and a member of our team will be in touch.